In today's business, the adoption of Internet services has significantly increased, thus becoming the vital pulse of daily business operations. Having said that, It is apparent that a business connectivity solution should effectively address Internet performance and reliability issues.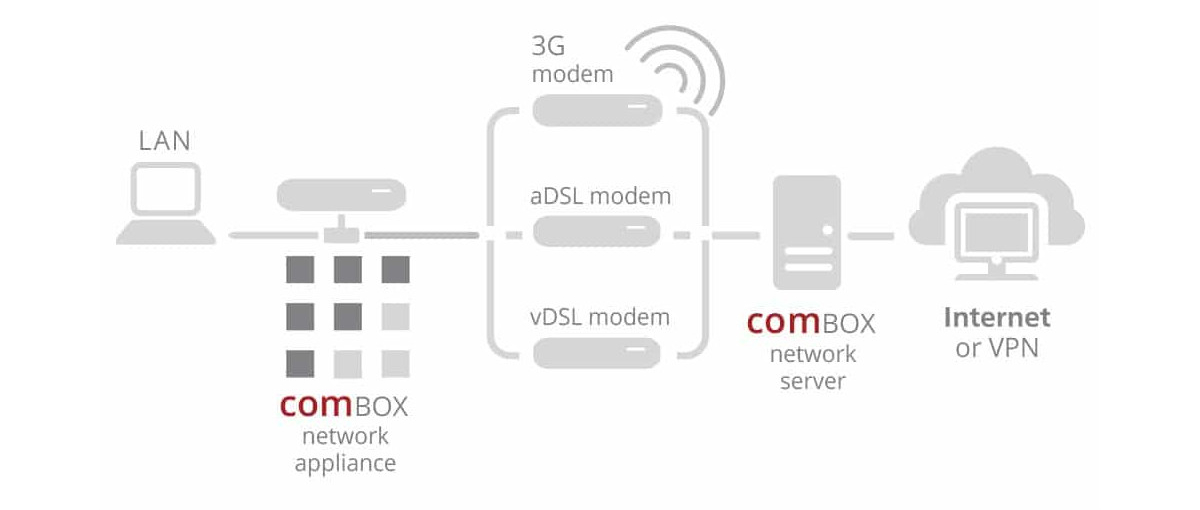 Until now, companies had the option of either purchasing a professional connectivity solution such as fiber optic leased lines or go with a commercial solution such as ADSL/VDSL. The first approach can provide both the required performance and a high level of availability, guaranteed with a SLA, but it comes with an extremely high cost which is unbearable for the majority of modern businesses, especially during periods of economic recession. The second approach provides a basic Internet connectivity solution that may be adequate in terms of performance for most small businesses but it lacks the required stability and availability which is extremely important as it directly affects their productivity.
comBOX services can help your business deploy a Hybrid Internet access solution which offers the benefits obtained from both wired and wireless networks by tailoring both networks to provide personalized solutions to the corporate sector, drastically improving the network performance while reducing the probability for network failure down to almost zero. The comBOX Hybrid Internet Access solution provides the best of both wired and wireless connectivity networks for businesses and sustains optimum connectivity experience. The transparent (smart) failover technology distributes the risk of failure of the physical medium in wired and wireless network infrastructures ensuring that the network technology can be smartly interchangeable.
The comBOX Hybrid Internet Access solution effectively addresses the needs of small companies allowing them to combine multiple ADSL/VDSL connections to get the required performance while using 3G/4G wireless networks as backup networks (in order to avoid additional data charges that may apply to these networks) to fill the downtime "gap" of the publicly available wired connections.
The comBOX Hybrid Internet Access solution supports mission critical business applications with secure high-speed connections as persistent connectivity is a must have in today's business environment. More and more IT managers, Chief Technical Officers and business owners have come to recognize this setup as the best option to enable resilience and stability in their company's network infrastructure.
To find out more about how comBOX services can help your business, contact us to schedule your custom demo today